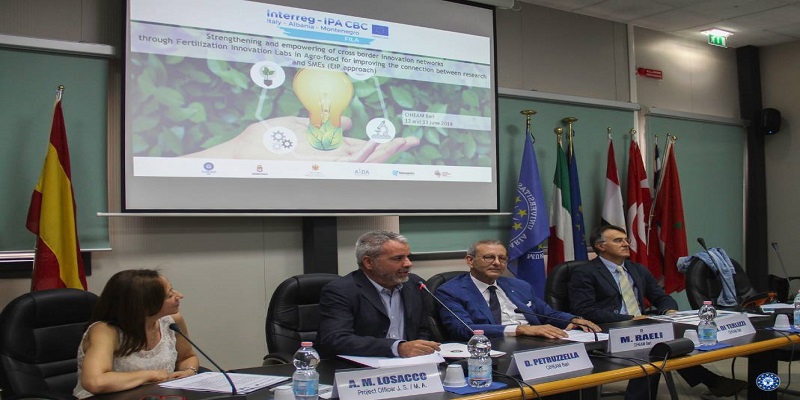 FILA, kick off meeting on 12 and 13 June in Bari
Overview
The objective of the two year project FILA is to strengthen and empower cross border innovation networks through Fertilization Innovation Labs in Agrofood for improving the connection between research and SMEs (EIP approach). The kick off meeting will take place on 12 and 13 June 2018 at CIHEAM Bari (Italy).

FILA project is financed by the Interreg IPA Cross border Cooperation Programme "Italy-Albania- Montenegro", established with the intent of boosting IPA cooperation in the lower Adriatic Seas, and facilitating the exchange of knowledge among regional and local stakeholders from the three countries.

The meeting will start on Tuesday 12 June at 4 p.m. with the workshop European Partnership for Innovation. Damiano Petruzzella (project manager) and Vincenzo Verrastro of CIHEAM Bari, Massimiliano Schiralli from the National Rural Network–CREA, Luigi Trotta, Manager of the Division for competitiveness of agrofood chains, and Luigi Scamarcio from Puglia Region will participate in the meeting.

The second day of the meeting, on Wednesday 13 June, will open at 10 o'clock with the welcome address by the Director of CIHEAM Bari, Maurizio Raeli, and the representative of the Managing Authority of the Interreg IPA CBC Italy-Albania-Montenegro Programme. The meeting agenda comprises the technical presentation of the project and the contributions of some representatives of the project partners.

CIHEAM Bari will lead FILA project in partnership with Puglia Region Department for agriculture, rural and environmental development, Albanian Regional Development Agency 3 (Korce, Elbasan, Berat), AIDA (Albanian Investment Development Agency), Innovation and Entrepreneurship Centre Thenopolis and the Ministry for development of enterprises of Montenegro.