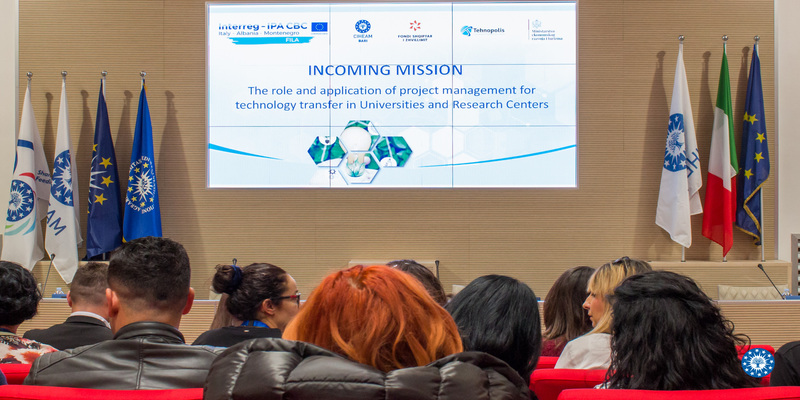 Fila Project learning path: "INCOMING MISSION - The role and application of project management
Overview
Launch today at CIHEAM Bari the seminar and learning path "INCOMING 𝗠𝗜𝗦𝗦𝗜𝗢𝗡 - 𝗧𝗵𝗲 𝗿𝗼𝗹𝗲 𝗮𝗻𝗱 𝗮𝗽𝗽𝗹𝗶𝗰𝗮𝘁𝗶𝗼𝗻 𝗼𝗳 𝗽𝗿𝗼𝗷𝗲𝗰𝘁 𝗺𝗮𝗻𝗮𝗴𝗲𝗺𝗲𝗻𝘁 𝗳𝗼𝗿 𝘁𝗲𝗰𝗵𝗻𝗼𝗹𝗼𝗴𝘆 𝘁𝗿𝗮𝗻𝘀𝗳𝗲𝗿 𝗶𝗻 𝗨𝗻𝗶𝘃𝗲𝗿𝘀𝗶𝘁𝗶𝗲𝘀 𝗮𝗻𝗱 𝗥𝗲𝘀𝗲𝗮𝗿𝗰𝗵 𝗖𝗲𝗻𝘁𝗲𝗿𝘀".
The activity will be carried out between 17 th and 21st April 2023 at the CIHEAM Bari campus, for promoting the strengthening of skills of 20 selected staff members from University, Research Center and Public Administrations of the Eligible Territories (Puglia, Molise, Albania and Montenegro) through their participation in an incoming mission (a capacity building activity for a total of n. 4 seminars) dedicated to tools of project management, the importance of the project "users" and how project management involves them in projects implementation.
The works have been opened by Maurizio Raeli,  Director of CIHEAM Bari and from the interventions of Ivana Zečević, DDSME - Ministry of Economic Development and Tourism, Ylli Take- Albanian Development Fund, Milijana Aleksić - IPC Tehnopolis, Dora Losacco -JS Interreg IPA CBC Italy-Albania-Montenegro 2014- 2020, Damiano Petruzzella-CIHEAM Bari.
This initiative is promoted by CIHEAM Bari within FILA project.