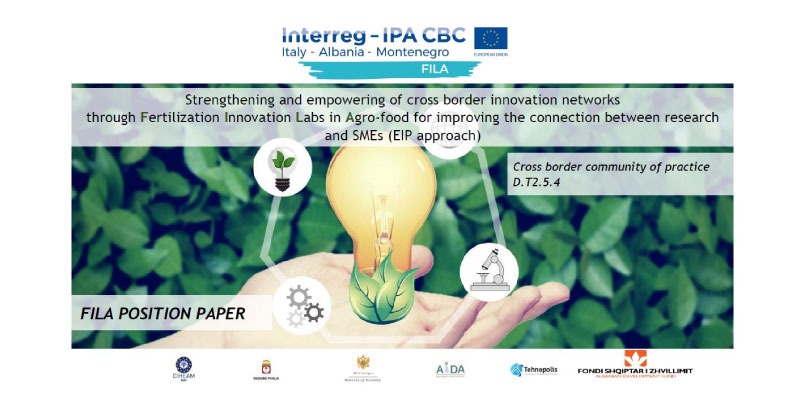 Cross border community of practice
Overview
Strengthening and empowering of cross border innovation networks through Fertilization Innovation Labs in Agro-food for improving the connection between research and SMEs ( EIP approach).
"Cross border community of practice", 11 December 2020, ZOOM.  
The results of the community of practice workshops held in Apulia, Albania, and Montenegro have been shared in a cross border community of practice meeting, during which partners agreed on:
• the themes and priority needs for innovation at cross border level
• suggestions for policymakers to improve innovation in the three countries
Some of the priority needs were the certification of organic products, creation of organic farming for better product quality, using integrated farming or organic farming techniques, promoting and creating social farms and farmers' union etc.
Also, some common suggestions for policymakers to improve innovation in Italy, Albania and Montenegro were: Encouraging young innovators and startups involvement by favouring the connection with inspiring and motivating experts and companies; Favouring open ecosystems for companies in order to identify clear needs through the discussion with stakeholders of different backgrounds; Encouraging innovation hub to create value for the community and Simplified administrative procedures for SME and farmers.