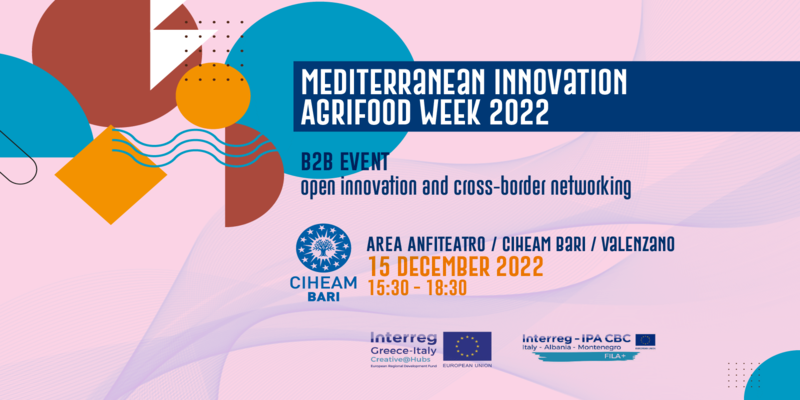 Mediterranean Innovation Agrifood Week 2022
Overview
Mediterranean Innovation Agrifood Week 2022
A week dedicated to cooperation for innovation in the Mediterranean agrifood sector-an ever-evolving ecosystem-which will be held from 12 to 16 December 2022 at CIHEAM Bari's Cosimo Lacirignola Campus.                                                                              
Objective: co-create initiatives that respond concretely to the needs of local business communities, especially the youth. 
The Fila Plus project will join the Mediterranean Innovation Agrifood Week 2022, organized by CIHEAM Bari, to capitalize on the project's actions, by strengthening the local networking component of Fila labs and the local innovation ecosystem of the territories involved in an international cooperation context.
The activities envisaged by the project also seek to involve new users to transfer the results achieved and expand their applicability both in the Programme area and in the wider EU area.
Fila Plus project will participate in two events:
The B2B event - Open Innovation and Cross-Border Networking, that will take place on 15 December 2022.   
Delegates from companies and organizations based in Italy, Albania and Montenegro will meet in Bari to exchange views, develop synergies, set up partnerships and discuss new opportunities, new trends and face together upcoming challenges.
The event will include: Round tables, focused on different issues  related to innovation and cooperation between territories, sectors and companies. An expert will facilitate each discussion table introducing the topic with a 10-minute keynote, and BUSINESS SPEED DATING, where participants will be able to meet in specially designed 30-minute F2Fs to discuss and start a direct collaboration
Register here to participate: https://events.iamb.it/p/event/b2bevent
The International Conference "COOPERATING FOR MEDITERRANEAN INNOVATION IN AGRIFOOD" on 16 December 2022
Entrepreneurship and innovation agri-food ecosystems in the Mediterranean are increasingly evolving seeking to better respond to the needs of business communities, with a special focus on the younger generation. Ecosystem players need to adapt in a smart way. New and diverse collaborations are required, new and different approaches and support measures are needed to support current and future innovators and entrepreneurs.
In this scenario, the conference aims to bring together Senior representatives from 10 international institutions and organisations who will convene to answer the question: "What are the opportunities that "innovation ecosystems" can and shall provide to young people in the Mediterranean area who wish to set up innovative enterprises aimed at modernising the agri-food sector?"
Register here to participate: https://events.iamb.it/p/event/internatconf
Discover the full programme here: https://bit.ly/InnoWee