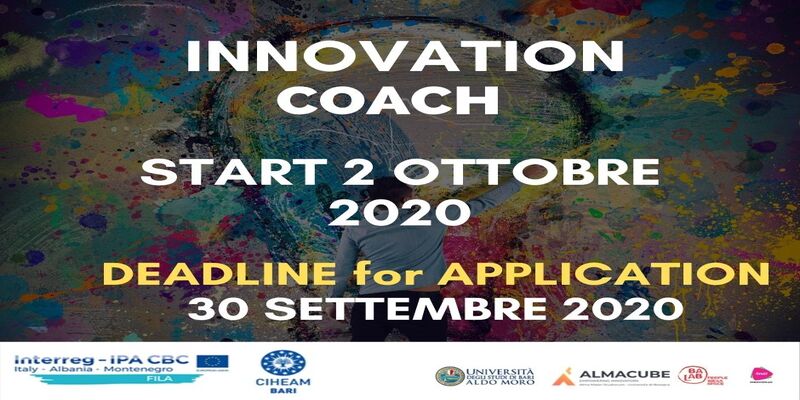 TRAINING COURSE on "INNOVATION COACH"
Overview
On October 2 will start the training course on "Innovation coach" organized within FILA project, financed by Interreg IPA CBC Italy, Albania, Montenegro by CIHEAM Bari in collaboration with Università degli studi di Bari, Almacube, Balab and Orsù.
The course is aimed at strengthening the professional skills of the innovation coach, a new professional figure that is becoming increasingly important in the processes of business innovation.
The innovation coach works with heterogeneous and multidisciplinary groups to facilitate and trigger creative processes in response to often undefined and ambitious business challenges.
Considering that the innovation process is as important as its results, the figure of the innovation coach provides a clear approach to the operation of the team, so that the impact of the entire process can be maximized not only at the company level but also at the personal level of each team member.
The role of the innovation coach is therefore to accompany experts working for a shared goal in a predetermined time frame in a state of flow, maximum creativity and productivity.
During the course, innovation coaches will learn techniques to facilitate the comparison and exchange between experts with different backgrounds, refine their leadership and team management skills and learn how to identify to create long-lasting and profitable collaborations for the company.