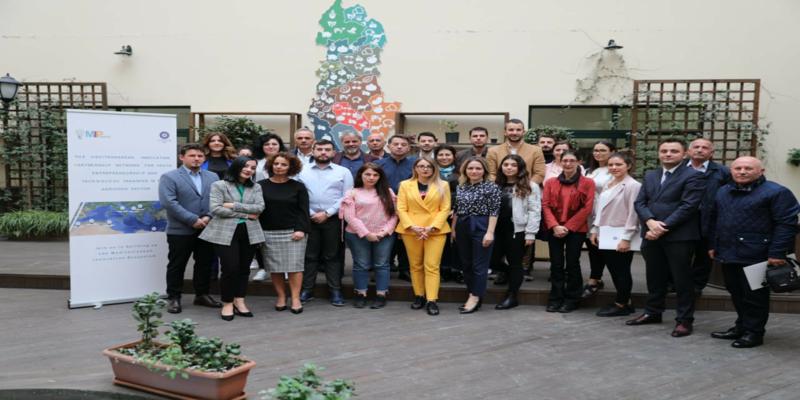 MIP National workshop INNOVATION AND YOUTH ENTREPRENEURSHIP IN AGRIFOOD SECTOR IN ALBANIA
Overview
On Tuesday, November 19, has been held at Ministry of Agriculture of Tirana, Albania, the MIP National workshop: "INNOVATION AND YOUTH ENTREPRENEURSHIP IN AGRIFOOD SECTOR IN ALBANIA- Join us in building up the Mediterranean Innovation Ecosytem" organized by CIHEAM Bari and MIP in collaboration with the Albanian Ministry of Agriculture.                                            
Aim of the network is to foster the development of a Mediterranean Innovation Ecosystem, strengthen collaboration among young innovators, institutions, research organizations, to stimulate innovation in the enterprises and the creation of start ups. To this end, MIP is organizing, in each partner country, workshops and training for innovation support organizations managers, #capacity building, knowledge sharing and cooperation at the Mediterranean level.
The main challenge is to produce food in sufficient quantity and quality for the consumers needs in a scenario of continuous growth of the world population.To respond to this important challenge it is necessary to develop and introduce innovative solutions in our agrifood system, enhancing above all start-ups and innovative enterprises. Innovation means making businesses more competitive and increasing employment, particularly among young people.
Mediterranean countries do not excel in innovation. According to the International Global Innovation Index (2018), the countries on the southern shore of the Mediterranean are located between 62nd place and 128th place, Albania is at the  69th place.To this end, CIHEAM Bari established the MIP Network "Mediterranean Innovation Partnership" in agrifood sector in 2016, among 10 countries of the southern shore of the Mediterranean, including Albania.