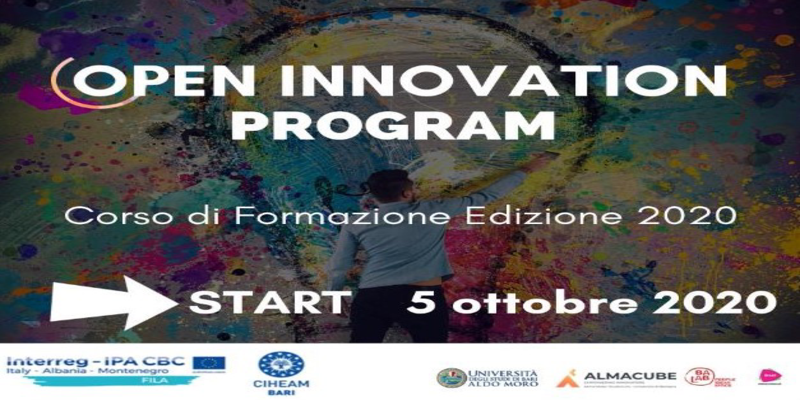 The "Open Innovation Program" 2020 edition kicks off on October 5th
Overview
"Open Innovation Program" 2020 is a training course, organized by CIHEAM Bari in collaboration with the University of Bari - Aldo Moro, Almacube Bologna, Balab and Orsù-Innovation Lab, which aims to train young people on the processes of Open Innovation through the application of the methodology of design thinking. The aim is to encourage the creation of new services and products in collaboration with senior companies in the territory for possible future startups.
The initiative, which is part of the FILA project, funded by the Interreg Italy-Albania-Montenegro programme, will be designed through a 2-month course, which will begin on 5 October 2020, including 10 days of frontal lectures and the development of a project work. Attendance will be guaranteed in the classroom, in accordance with anti-COVID measures, at the CIHEAM Bari incubator or at partner companies.
The application can be submitted by 20 September 2020, by e-mail, at: youth&innovation@iamb.it.
More information: 
http://www.iamb.it/en/news_and_events/one?event=al-via-dal-5-ottobre-il-corso-open-innovation-program-edizione-2020&id=471